33 Films in the "Human Rights Festival"
Bahrain will be organizing the Bahrain Second International Human Rights Film Festival under the patronage of King Hamad on 01 May 2009. The Festival is expected to last for four days and Africa will be celebrated this year. Mr Fadil Habib, Director of Public Relations and Media, has revealed that the number of participating films has increased to 33 and has anticipated more in the coming period. He pointed to the international presence in the festival and hoped that the Kingdom of Bahrain will join the international network for human rights films soon.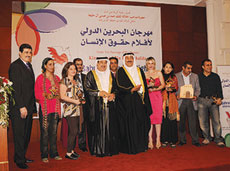 The festival is the first of its kind in the region and around ten countries will participate including: Japan, Holland, Nigeria, South Africa, USA, India, France, Bangladesh, Cameroon and Afghanistan. The festival will allocate prizes for best documentary and feature film, best director and best actor or actress. The festival, and after its successful first experience has been given a financial grant by the Ministry of Social Development as part of the Ministry's support for civil organizations. Several films drew the attention of critics in the first festival including: 'Under Fire' which portrays the 2006 war in Lebanon, 'Rephrasal' which recounts American soldiers' memories in Iraq, 'Soil and Soot' which narrates the tragedy of civilians in Afghanistan and finally 'It's a Free World' which deals with migrant workers in Britain, as well as another film which reflects the human tragedy in Darfur.