Human Rights Delegation Visits the Women's Prison
On 9 May 2009, a delegation consisted of 10 human rights activists, including the Secretary-General of the Bahrain Human Rights Society, Abdullah Al Drazi, visited the Inmates Correction and Rehabilitation Centre in Esa City. The delegation included doctors, lawyers, psychiatrists and social workers. According to the Secretary-General the visit was permitted by the Ministry of Interior after being delayed for three years. The permission was granted after a meeting between Drazi and the Minister of Interior a few weeks ago followed by another meeting between two working teams from the Society and Ministry.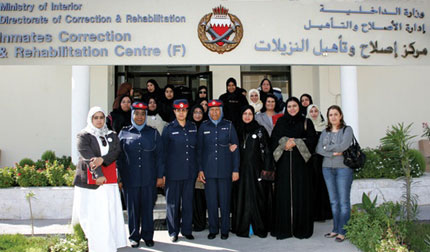 The delegation met with 20 out of 58 inmates and filled out three forms, one regarding the conditions of the inmates, the second regarding the places of housing and rehabilitation and the third regarding prison officials and their views. Al Drazi stressed that the Society will continue monitoring the situation and preparing the report according to international standards. He expected the report to be completed within one month and then will be forwarded to the Minister of Interior. Drazi said: 'we have reached an agreement with the Minister that he will be provided with the report as he wishes to improve prison conditions so that Bahrain can be at the same level as other countries whose prisons are in line with international standards'. Drazi hoped that the Ministry will adopt the report's recommendtions and address the shortcomings it will highlight. He also affirmed that the team was allowed unfettered access to inspect the wards and was provided with all the required facilitation. He also hoped that Bahrain would adopt the optional protocols of the Convention against Torture with regards to freedom of movement to visit the prisons.