Al-Ekri: Combating Corruption is Ineffective
Bahrain Transparency Society praised and valued the Council of Ministers' approval of Bahrain joining the UN Convention against Corruption last May and presenting the draft law to the legislative authority. . The Society also praised the Public Persecutor's reassurance that 'corruption cases will be prioritised'.
The Society requested that the House of Representatives 'plays an active role in the monitoring process, quickly ratifies the UN Convention against Corruption and implements all the relevant requirements, including the establishment of a national committee for combating corruption, without ignoring its role of looking into the reports of the Financial Monitoring Council'.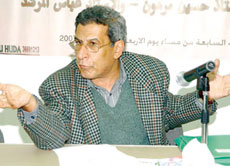 Abdulnabi Al-Ekri
The President of the Society, Abdulnabi Al-Ekri, criticized the reluctance of the Government regarding the establishment of a committee which monitors and follows up the implementation of the transparency and combating corruption commitments. He said that joining the agreement without establishing a specialized committee for the above minimises the impacts of the Government's step and renders combating corruption ineffective. Al-Ekri also called for the use of strict measures for combating corruption and ratifying a law for disclosing the financial liability of officials.
Moreover, the Justice Minister, Sheikh Khalid Al-Khalifa, ruled out the establishment of a national committee for combating corruption because of the existence of several specialized committees in this field. Such as the Tender Board, the Office of Financial Supervision, the Public Persecutor's Office, the Judiciary, in addition to the Parliament. He explained that the existence of several bodies for combating corruption is better than confining all efforts to the establishment of one committee.
With regards to another related subject, Al Ekri stated that the Society is proud at the trust that it receives from abroad which led to receiving an invitation to supervise the Lebanese elections, and earlier time the elections of the Kuwati National Assembly. He noted that 'his Society is keen on participating in monitoring elections abroad, in order to benefit the Society when monitoring the next Bahraini Parliamentary elections in 2010'.