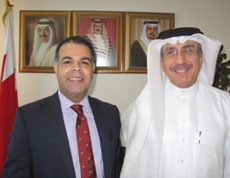 With the Minister of Health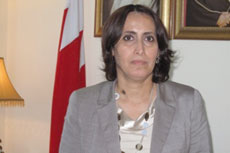 Dr. Mariam Al Jalahma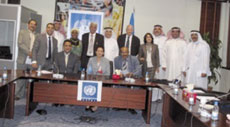 NIHR workshop with Peter Hosking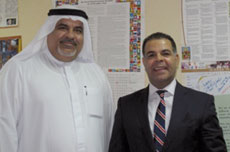 With Faisal Fulad, BHRWS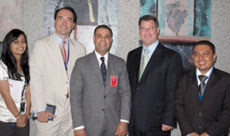 With US Embassy's Officials
Human Rights Meetings
■ On 8 June 2010, the President of the BHRM Hasan Shafaei met the Minister of Health Dr. Faisal Yacob Al Hamer, with the presence of his Assistant Undersecretary, Dr. Mariam Al Jalahma. During the meeting, the issue of the closure of the Nursing Society's office and the sacking of Abdulaziz Shabib were discussed. This nurse had failed to comply with the Ministry of Health's regulations which states that the information of any injured patient should be recorded. Instead, Shabib had secretly provided treatment to an injured patient involved in recent violence, and had circumvented computer programs.
Shafaei listened to the Minister of Health's opinion regarding the closure of the Society, which he said had nothing to do with providing equal treatment to all those injured in incidents of violence. The issue in his opinion related to administrative breaches by the Society, and its use of the Central Hospital's building, which the Ministry needs.
Shafaei presented to the Minister information and reports issued by international human rights organizations regarding the matter. He stressed that it was necessary for the Ministry to explain its position to those organizations which had publically condemned the decision to close the Nursing Society, and they lacked knowledge of the legal and administrative background of the incident.
■ On 9 June 2010, a workshop lasting two weeks was organised to raise the level of professionalism of NIHR members at the UN House in Manama. The workshop was supervised by the Senior Consultant at the Office of the UN High Commissioner for Human Rights, Peter Hosking. Hosking is one of the important figures who had prepared the Paris Principles regarding the national institutions for human rights in 1993.
■ On 9 June 2010, the President of the BHRM met the First Secretary and Political and Economic Counsellor Steven R. Butler at the U.S. Embassy. The meeting was attended by the Political Officer and observer of the U.S. Foreign Ministry's annual human rights report, Ludovic Hood; Salman Hubail, an employee at the Embassy; and MEPI Coordinator, Anjali Thadani. During the meeting, human rights in Bahrain were discussed in addition to the latest developments regarding the NIHR, particularly the future developments of the human rights situations.
■ Finally, the President of the BHRM met the Secretary General of the Bahrain Human Rights Watch Society, who is also a member in NIHR, Faisal Fulad, at the Society's Headquarter in Manama. Among the issues discussed were human trafficking in Bahrain, monitoring and documenting violation cases, and the need to provide support for the victims. Both parties expressed their willingness to cooperate in human rights issues in the future.