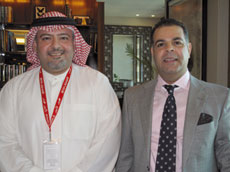 The President of BHRM meets
the Justice Minister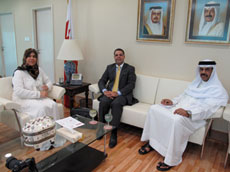 During a meeting with the
Minister of Social Development
With the President of the Information Affairs Authority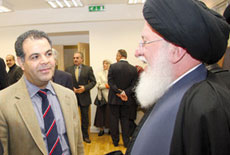 Shafaie meets Ayatolla Al Sader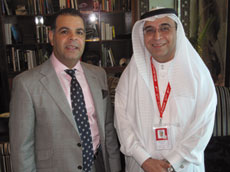 With Judge Khalid Ajaji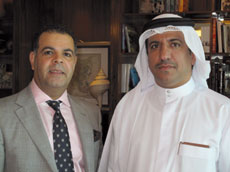 With Abdulla Al Buainain – the President of the Legislation & Legal Opinion Commission & member of the Elections' Supreme Committee.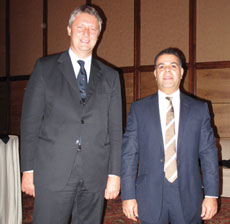 Shafaie with the Italian Ambassador
The president of BHRM meets the Editor in Chief Abu Zaytoon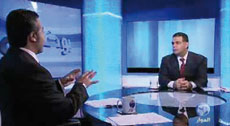 During an interview with
Al Hiwar TV Channel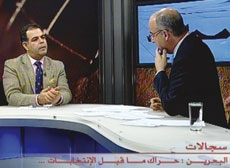 And in another interview with ANB TV
BHRM Activities,
■ On 22 October 2010, the President of the BHRM met Shaikh Khaled bin Ali Al Khalifa, Minister of Justice & Head of the Elections' Supreme Committee, at the media Centre to cover the parliamentary elections. His Excellency briefed the President on the measures that were taken to ensure the integrity of the elections.
■ On 20 October 2010, Hasan Shafaie met the Minister of Social Development and Ambassador Saeed Al Faihani, who is in charge of human rights in the Foreign Ministry. During the meeting, they discussed means of mutual cooperation and the reasons behind dissolving the Board of Directors of the Bahrain Human Rights Society.
■ The President of the BHRM also met the President of the Information Affairs Authority Sheikh Fawaz bin Mohammed Al Khalifa, in which he briefed Shafaie about the reasons behind the closure of some websites, as well as the banning of the newsletters of some political parties.
■ Shafaie also met the Advisor in the Ministry of Foreign Affairs Dr. Abdul Latif Al Zayani, with whom he discussed the recent human rights developments, and the best means of dealing with Arab and international human rights organizations.
■ Shafaie met the Assistant Undersecretary and Member of the Elections Supreme Committee, Judge Khaled Ajaji, and discussed with him the legal safeguards implemented to ensure the integrity of 2010 elections.
■ He also met Abdulla Al Buainain, the President of the Legislation & legal Opinion Commission & member of the Elections' Supreme Committee.
■ On 24 October 2010, Shafaie attended a reception organised by the Resident Coordinator of the UN, Sayed Aga, on the occasion of UN Day, during which he had the opportunity to meet a number of political, diplomatic, media and human rights figures including the Italian Ambassador in Manama Enrico Padula, the Director and the Regional Representative of the UNEP/ROWA, Dr.Habib El-Habr, and the Regional Director of the UNIC, Nejib Friji.
■ The President of the BHRM paid a visit to Al Watan Newspaper and met journalist Mohanad Abu Zaytoon, who was attacked and wounded on 25 August 2010. Abu Zaytoon briefed Shafaie of the details of the incident, and stressed the position of the BHRM, which supports freedom of press and journalists against any assaults.
■ The London-based satellite Channel Al Hiwar and the Lebanese Channel ANB interviewed the President of the BHRM, during which he discussed the latest developments in human rights in Bahrain.
■ Finally, Shafaie participated in the opening of Asalam Centre in London. The Centre has been founded by Ayatolla Sayed Hussain Ismaeel Al Sader, one of the most prominent Shia scholars in Iraq. The occasion was attended by many Arab and British figures, including Sader himself.