Meetings of BHRM in Geneva
On 22-26 November 2010, the President of the BHRM Hasan Moosa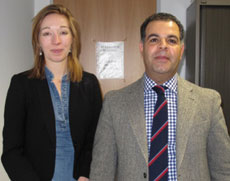 With Ms. Rose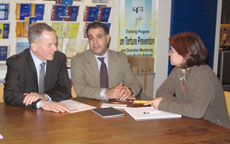 With Mr.Thomson & Ms. Schaufelberger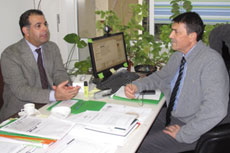 With Mr. Mesli

Shafaie visited Geneva in a working trip, during which he met several human rights officials from various international human rights organizations at the Office of the High Commissioner for Human Rights (OHCHR).

Shafaie met the Chief of Human Rights Treaties Branch at the OHCHR, Mr. Ibrahim Salama, and discussed Bahrain's commitment to the international agreements it has signed.

He also met the Chief of Civil Society Unit, Ms. June Ray as well as the Human Rights Officer for the Bahrain section Mr. Predrag Zivkovic. Discussions in both meetings revolved around the latest human rights developments in Bahrain and the role of the National Institution for Human Rights (NIHR) in the development of Bahraini civil society organizations.

As a member of the NIHR, Shafaie also met the Human Rights Officer for National Institutions and Regional Mechanisms Section, Afrain Shahidzadeh in the presence of the Representative of the International Liaison Committee of National Human Rights Institutions, Ms. Katharine Rose. During the meeting, the accomplishments and committees of the NIHR in Bahrain were discussed, as well as some activities carried out by the NIHR, such as prison visits and supervising recent elections.

Shafaie also met the Legal Director of the Legal Section at the AlKarama Organization for Human Rights, Rachid Mesli, and discussed with him the scope of mutual cooperation. He also met the Secretary General of the Association for the Prevention of Torture (APT), Mark Thomson, with the presence of Esther Schaufelberger, the Programme Officer at the APT, and discussed with them the need of organising more training workshops in Bahrain.