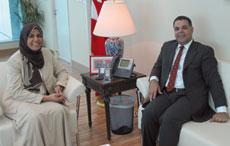 Shafaei meets Dr. Fatima Al Balooshi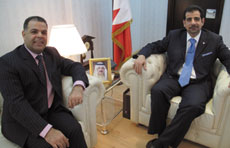 With Under Secretary Abdulla Abdullatif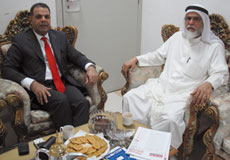 with Dr. A. Latif Al Mahmood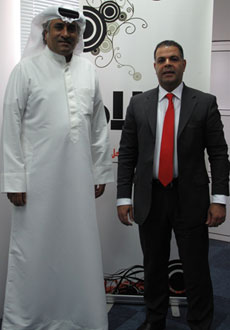 with Editor in Chief Moanes Al Mardi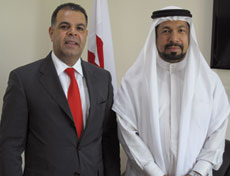 with Dr. Salah Ali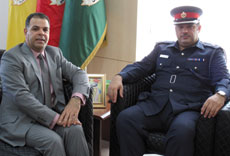 With the Director of Legal Affairs Directorate Major Rashed Bu Najma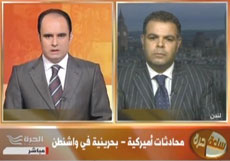 interview with Alhurra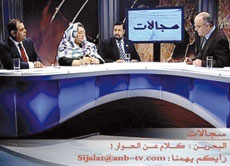 interview with ANB
BHRM Activities
During the last two months (May and June 2011), the President of the Bahrain Human Rights Monitor Hasan Moossa Shafaei met several Bahraini officials, ministers, political activists, journalists, figures from political societies as well as human rights activists.
Shafaei met the Foreign Minister Sheikh Khalid bin Mohammed Al Khalifa, the Minister of Interior Sheikh Rashed Bin Abdulla Al- Khalifa and Dr. Fatima Al Balooshi the Minister for Human Rights and Social Development. He also met with the Under-Secretaries of Forigen Affairs Abdulla Abdullatif and Hamad Al Amir, Director of the Legal Affairs Directorate Major Rashed Mohamed Bu Najma. During the meetings many issues were discussed including recent human rights developments, matters of concern with regards to?human rights and Bahrain's commitments to human rights and the relations with international human rights organizations. Shafaei was briefed on cases of human rights violations in Bahrain, during which they all stressed Bahrain's commitment to respect human rights.
Shafaei also met both the Secretary General of Al-Wefaq Society Sheikh Ali Salman and the Chairman of the National Unity Assembly Dr. Abdu Latif Al Mahmood where they discussed several issues regarding the possibility of national dialogue, social cohesion, confronting the incitement resultant from sectarian discourses and stressed the importance of exerting all efforts in order to promote social unity. Shafaei urged them to try their best to solve the political crisis in a way that will satisfy all parties?and achieve political and social stability.
The President of the BHRM also met the Chairman of Foreign Affairs Committee, Dr. Salah Ali and discussed with him the important role that the legislative institutions play in supervising the Executive Authority's commitment to human rights in light of allegations of violations. He also met officials from the Information Affairs Authority including Sheikh Abdulaziz bin Mubark Al Khalifa and Sheikh Abdualla bin Ahmad Al Khalifa. Shafaei also met the Editor in Chief of al-Bilad newspaper Mo'nes Almurdi and?the Acting Editorial Manager Ahmed Ibrahim. During the meeting many issues were discussed including the role played by the national media in fostering harmony and forgiveness, bridging social divides, and preventing the publication of divisive material as well as discussing foreign concerns over media freedom in Bahrain.
Moreover, the President of the BHRM participated in two debates on human rights on Al Hurra TV channel on 8 June 2011 and on ANB on 3 June 2011 with the participation of MP Latifa Al Qaood and member of the Shura Council Dr. Salah Ali.