BHRM Activities
Bahrain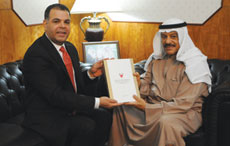 The President of BHRM with
Ali bin Saleh Al-Saleh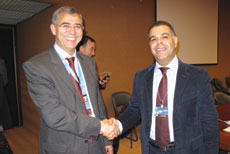 with Frej Fenniche of Middle East and North Africa section in the OHCHR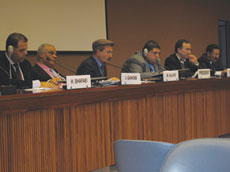 at symposium in Geneve on human rights in the context of the Arab spring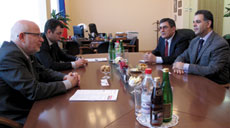 In a meeting with Prof . Mikhail Fedotov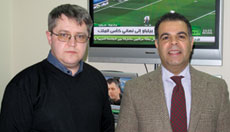 with Alaxander Nazarov of Russia Today satellite Channel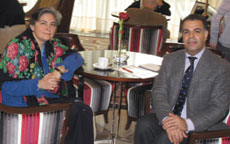 with Dr. Elena Suponina
The President of BHRM Hasan Moosa Shafaei met the Chairman of the National Commission concerned with the implementation of Bassiuouni's recommendations Ali bin Saleh Al- Saleh. The meeting took place in the latter's office in Manama. During the meeting, human rights situation, national reconciliation and the importance of following up the executive authorities' implementation of Bassiouni's recommendations were all discussed. Shafaei also received two copies of Saleh's report in both languages English and Arabic.
Shafaei also met with several prominent political and human rights figurers including: the General Director of the Democratic Tribune Society and a member of the National Commission Dr. Hasan Madan, the former General Director of the Bahrain Human rights Society, and a member of the National Commission: Abdulalla Al- Drazi and the President of the Bahrain Transparency Society Abdulnabi Al- Ekri. During these meetings, political and human rights situation in Bahrain were discussed. The meetings also disscussed ways that would positively contribute to the improvement of situation and promote respect for human rights .
Moscow
During a business trip to Moscow, the President of the BHRM met the Head of the Council on Civil Society and Human Rights affairs at the Russian Presidency, Prof . Mikhail Fedotov. During the meeting, human rights in Bahrain and a potential cooperation between Bahraini and Russian civil society were discussed.
Shafaei also met the General Manager of Russia Today satellite Channel- Arabic division- Alaxander Nazarov, with whom he conducted an interview discussing the commemoration of the events which took place last February. He also met many journalists working for RT Channel, including Salam Mosafir.
Shafaei also met the President of the Department of Asian and Middle Eastern Studies in the Russian Institute for Strategic Studies Dr. Elena Suponina.
Geneva
The President of the BHRM engaged in many activities during his visit to Geneva, including attending the meetings of the Human Rights Council during its 19th session.
He also participated in seminars on human rights in the Arab World in general, and in Bahrain in particular. Shafaei also met many foreign and Arab human rights activists including: the Vice President of the Bahrain Human Rights Society Esa Al- Ghaib, Shawan Jabarin, the General Director of Al Haq, a Palestinian Human Rights Organization, a Syrian human rights activist Dr. Haytham Manna, the Chief of Middle East and North Africa section in the OHCHR Frej Fenniche, as well as Mohamed Hojeij, the Officer in charge of Bahrain in the OHCHR.
Other Activities
During another visit to Germany, the President of BHRM met several activists and journalists including the Head of the Arabic Department in the German Satellite TV Channel DW Mustafa Isaid, his Deputy Mohamed Ibrahim and the Editor in Chief of Qantara website Loay Mudhoon.
An article by the President of the BHRM entitled Spring or Crisis in Bahrain was published in the The Democracy, an Egyptian Quarterly issued by Al – Ahram Establishment.