Regarding the Issuing of the Family Law (Shia Section):
Constitutional Guarantees are One Thing and Codifying the Law is Another
Statements made by the Vice-President of Al Wifaq, Khalil Almarzooq,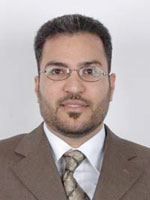 MP Almarzooq

regarding the Shia section of the Family Law, have aroused a lot of controversies and objections, particularly his statement that the law ' will never see the light of day as long as the demands of the Shia scholars, regarding constitutional guarantees, are not met'. He added that: 'the nation can live with or without Family Law. It has managed without it for more than 1400 years and can continue to do so for another 1400 years'.

The problem lies in the issue of codifying Islamic rulings, which has become a demand in many countries and even in those that don't have laws such as Saudi Arabia. Hence, it was surprising to see an influential MP, serving in the legislative authority, belittle the importance of codifying Islamic rulings.

Indeed, Almarzooq has the right to ask for any guarantee he sees fit. This is the real problem we face today and should be solved through dialogue between the Government and Shia scholars. However, the very existence of a family law which judges, legislators and the Executive Authority abide by should not be undervalued.

There are those who say that the constitutional guarantees which the Al Wifaq MPs demand are not only hard but impossible to achieve. In our opinion there is a solution to this problem, since both Shia scholars and Al Wifaq MPs accept the very existence of a Family Law, but their concerns center around possible changes in the future to the law instigated by the Legislative Authority. From this basis a compromise can be achieved. However, Almarzooq appeared nervous in his statement when he said that the Government did not offer a solution to this matter and also said that 'we are ready to wait for another 2800 years'.

King Hamad bin Isa Al Khalifa had stressed that any law which contradicts the Islamic Sharia will not be authorized. This was regarded by some MPs as a positive sign for Shia scholars and a new beginning for solving the problem.