Government Procedures Complicate Relations
with Human Rights Organisations
International human rights organisations anticipated an improvement in their relationship with the Bahraini Government, as represented by the Ministry of Human Rights. This optimism came not only as a result of Bassiouni's recommendations, but also due to the Bahraini Government's invitation, which allowed these organisations to attend the release of the report. Bahrain's Human Rights Minister also met with delegations of human rights organisations, and asked them for technical assistance in implementing Bassiouni's recommendations, whilst improving mutual relations which were badly affected during the unrest.
Recently however, relations have deteriorated, especially between the UN High Commissioner for Human Rights and the Bahraini authorities. This is due to the sudden postponement of a visit by the United Nations Special Rapporteur on Torture from March to July, and the prevention of a number of foreign human rights activists from entering Bahrain.
What Happened?
Why did Amnesty International, Human Rights Watch, Doctors for Human Rights and Human Rights First send a joint public letter expressing their dissatisfaction and cancelling all their visits to Bahrain?
We believe that the reason for this is the Ministry of Human Rights' decision to impose a limited stay of five business days on human rights delegations as well as requiring visas for entry into the country. This was seen by international organisations as a blatant restriction on their work, and an even worse setback compared to the peak of the crisis last year, when human rights activists entered Bahrain and met officials and civil bodies without restrictions.
The letter stated in response to the letter of the Minister of Human Rights: 'We, the undersigned human rights organizations, would like to thank you for your 28 February 2012 letters and your offer of assistance with arranging our upcoming visits to the Kingdom of Bahrain. At the same time, we must object to the conditions placed on our visits, in particular the extremely short timeframe. The five-business-day limit appears to be arbitrary and will greatly impede our ability to monitor and research human rights developments'. The letter added: 'We consider the limit imposed on the duration of our stay in Bahrain to contradict the oral commitments you and other officials made in meetings with our representatives, and to the United Nations, regarding access for international human rights organizations.' The four organisations criticised the Minister for informing them of these constraints so close to their departure day and called upon him to reconsider and increase their visit times.
Based on this, Amnesty decided to cancel its visit to Bahrain and issued a statement explaining this matter: 'Regrettably we have cancelled the fact-finding visit to Bahrain due to start today, as the new five day limit imposed by the Bahraini authorities for visits by international human rights organizations is a serious impediment to their ability to do their human rights work. The Bahraini authorities have repeatedly stated their commitment to undertake human rights reform and to cooperate with international human rights organizations. These new restrictions contradict such commitment.' On 3rd March 2012, the Information Affairs Authority issued a statement in response to this, stressing the necessity of obtaining visas and the allocated timeframe. It also expressed its regret that the organisations have cancelled their visits to Bahrain. The statement also added that 'Amnesty's request to visit was for one week, which included a weekend. Bahrain's Minister of Human Rights and Social Development HE Dr Fatima Al Balooshi met Amnesty's representatives, upon her request, to explore how her Ministry could assist Amnesty, and to also clarify Bahrain's immigration regulations, which are not designed to be restrictive'. The Minister's statement added that 'representatives could come to Bahrain even if their arrival and departure times extended into the weekend by some hours, so that they may have the benefit of five full working days in Bahrain. The Ministry is also ready to assist Amnesty in arranging meetings, in order to try to ensure that it could finish its work. In any event, Amnesty could obtain visas for a repeat visit for a further five working days if it failed to achieve in five days what it had originally sought to achieve in six or seven.'
The statement also stated that the Authority is 'disappointed that Amnesty has chosen to put its objections to Bahrain's visa regulations before its work to promote and protect human rights. The Government also regrets Amnesty's attempt, in its statement, to link this immigration issue with the recent postponement, by a few months, of the visit of the United Nations Special Rapporteur on Torture. The matters are unrelated. Bahrain confirms that the visa regulations do not apply to United Nations agencies and specialised bodies. Bahrain is also pleased to reiterate its commitment to human rights and co-operation with all bodies engaged in the promotion and protection of human rights, which remain welcome to visit Bahrain'. On 6th March 2012, Dr al-Balooshi reiterated the Bahraini Government's official stance, and stressed that Bahrain welcomes all visits from established rights organisations with complete credibility and transparency. However, such visits must follow the administrative rules for visas in order to guarantee their success.
Background to Government Procedures: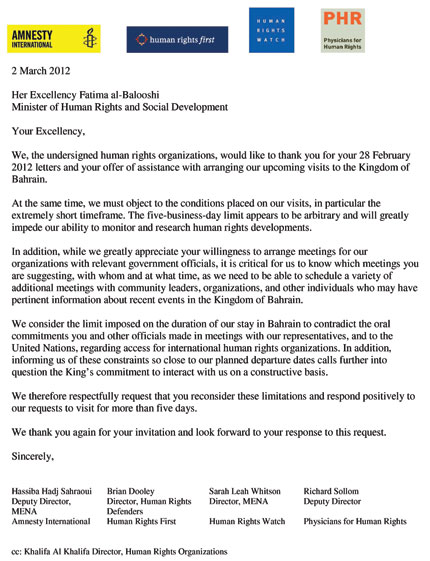 The statement of four human rights organisation
regarding limits to their stay in Bahrain
Recently, a group of foreign political and human rights activists entered Bahrain claiming that they were invited by the Bahrain Human Rights Centre (BHRC). These activists participated in illegal demonstrations in the centre of Manama, one of which took place on 11 February 2012. During this protest, confrontations between security forces and protesters took place which led to the detention of two American women: Huwaida Arraf and Radhika Sainath. The women were deported the next day, and had obtained tourist visas from Bahrain Airport. According to an official statement, the two women work for a group called Witness Bahrain, whose website and twitter page are a platform for publishing the activities of the BHRC. On 12th February 2012, the President of BHRC, Nabil Rajab was arrested and then released two days later. The Bahraini Minister of Interior also announced the deportation of six American nationals who participated in similar protests. On 17th February 2012, an immigration official also announced the deportation of four foreign activists who demonstrated in al-Qadam village including two women, one American and one Irish.
On 16 February 2012, the Ministry of Interior met immigration officials and discussed with them the new restrictions regarding visa applications. The Minister explained the new situation regarding foreign activists, and said that Bahrain facilitates the visits of Businessmen and investors, and allows them to obtain visas from the airport. However, some take advantage of these facilitations and violate the rules and regulations, which required a revision of entry procedures and the issuing of visas in order to organise this process. On 19 th February 2012, The Interior Minister, Sheikh Rashid bin Abdullah al-Khalifa stated that Bahrain recently prevented 54 individuals from entering the country through Bahrain International Airport. This is because they came into Bahrain without an invitation from official bodies, whilst further investigations revealed that they were affiliated to some news organisations, and some were reporters. One of these organisations has an office in a GCC country and trains people to resist their regimes, which the Minister considers to be very dangerous. The Minister also explained that the new visa procedures will include citizens from 36 countries. He also expressed his regret that some citizens have been taking advantage of certain facilitations by obtaining tourist visas; while others have breached Bahraini laws by participating in illegal protests. For these reasons, amending immigration procedures has become necessary. The Minister also stressed that anyone visiting Bahrain with the aim of causing problems will be prohibited from entering the country, whilst asserting that Bahrainis are able to solve their own problems.
In summary, the official point of view is as follows:
Recent visa procedures aim to prevent political and human rights activists from easily entering Bahrain to participate in illegal political activities, such as demonstrations.
The current problem in Bahrain is a local one, and hence any foreign interference will complicate the matter further.
The Bahraini Government wants to continue cooperating with professional and credible international human rights organisations.
Repercussions and Solutions
The new Government visa procedures have negatively affected the relationship between Bahrain and international human rights organisations. The Government of Bahrain views these procedures as part of protecting their sovereignty. On the other hand, despite the fact that disagreements between the Government and these organisations is only about a few extra days, the message behind these procedures in the current situation was negative, in the eyes of the human rights organisations. Amnesty International requested a mission of seven days, and the Government reduced this to five. After much pressure the weekend was added (Friday and Saturday), but these two days will force the organisation to arrive to Bahrain on Fridays. The whole issue raises the question, is this really worth undermining the relationship between Bahrain and international human rights organizations? Amnesty also complained that applying for another five days (if its delegation fails to complete its work in the first week) represents another restriction, because its delegation would need to leave Bahrain and then reapply for new visa.
Further consequences of the recent visa procedures, which we believe will only undermine human rights, are as follows:
1) Damaging Bahrain's relationship with international human rights organizations which is a great loss for Bahrain's reputation, especially in the current circumstances. The new procedures contradict the principle of transparency, and may increase political and media pressure on Bahrain.
2) The new procedures represent a loss for international organizations, and will prevent them from closely monitoring the situation, contributing to the development of human rights in Bahrain and cooperating with the Government and civil society organizations. In fact, all parties within Bahrain will miss valuable opportunities to benefit from the expertise of these organizations.
What is the problem with the Government decision?
We believe that Bahrain has the right to take any appropriate procedures to protect its interests. However:
Although foreign activists benefited from Bahrain's entry facilitation, these do not represent well-known human rights organizations, even if they are involved in political activities. Witness Bahrain for example, is a newly formed group (established in February 2012), with political agenda. Hence, the new procedures should have been limited to this group only, and should not have included other better known international organizations, which have nothing to do with political activities, such as participating in illegal demonstrations or entering Bahrain by tourist visas.
International human rights organizations will continue their activities, including issuing reports and statements and communicating with local and international civil society organizations. In this case, official points of view were absent or limited and these organizations will have the excuse of not being allowed entry into Bahrain or being obstructed by legal and immigration obstacles. These organizations will ultimately not accept such constraints being placing upon them by any government.
The timing of last minute restrictions on the organizations mentioned, just before travel, increased the sensitivity of the relationship between them and the Government.
We believe that the visa issue is entirely concerned with the Government, and human rights organizations are obliged to obtain visas before visiting Bahrain. However, with regards to imposing a timeframe, we think that the Ministry of Human Rights should revise its decision, or at least exclude well-known international organizations from it.