Developing the Official Human Rights Discourse
There has been a notable improvement in the official human rights discourse and in bridging the gap with international human rights organizations and the OHCHR since the recent Universal Periodic Review meetings in September 2012 regarding human rights in Bahrain.
This positive new atmosphere was the result of the activities of the Foreign Minister, Sheikh Khalid bin Ahmed al-Khalifa; such as his official speech in the Council, his responses to their questions, his meeting with the High Commissioner as well as a number of international delegations. Admitting that mistakes had occurred, making commitments, explaining the challenges facing the Government, convincing others and insisting on reforms are all factors which led to a change in the positions of international?bodies. Hopefully, this effort will be a turning point in improving the relations between the Bahraini Government and international human rights organisations and OHCHR.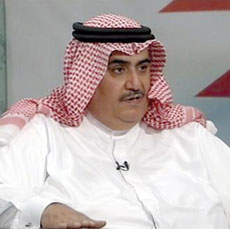 The minister's speech highlighted the importance of national dialogue and the willingness of the Government to take part in dialogue. This is what the international community wants to hear and was stressed by the King, the Crown Prince, the Prime Minister and the Foreign Minister. There are no preconditions for dialogue except condemning violence, respecting the rule of law and actively engaging in all aspects of the dialogue. Generally, the Foreign Minister's transparent and moderate speech explained the ?fficial point of view of the Government. It is important to stress that OHCHR was satisfied with the cooperation of the Bahraini Government with regards to many technical issues such the agreement on the visit of the Special Rapporteur on torture and the Government's consideration of joining the Optional Protocol to the Convention against Torture.
However, relations with International Human Rights organisations can only be improved if these commitments are implemented on the ground which was promised by (both the Foreign and the human rights Ministers) before the Council in Geneva. Cooperation with International Human Rights bodies is a necessity for Bahrain and its progress in the Human Rights field and any efforts made in this direction will serve human rights in the country.
After all, the ultimate goal is to allow Bahraini citizens to enjoy their rights in accordance to national legislations and international standards. The role of International Human Rights Organisations is to uncover mistakes and violations and provide recommendations for reform. Using their experience, expertise and resources these bodies are able to help all countries including Bahrain in implementing programs that bring about more respect and protection for human rights.