Hasan Moosa Shafaei:
Dialogue Requirements: Conducive
Environment and the Participation of all Parties
In an interview with Al-Bilad newspaper on 9 June 2011, the President of the BHRM Hasan Shafaei said that the King is determined to see the national dialogue and national reconciliation succeed. National dialogue will lay the foundations for a new era, which will promote stability and restore Bahrain's social cohesion. Shafaei also added that many obstacles lie ahead, but that dialogue is the right way forward adding that steps should be taken to ensure that it succeeds.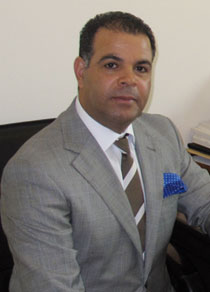 Hasan Moosa Shafaei
Shafaei also stressed that all parties should participate in this national dialogue, and that a policy of political accommodation be adopted. This will strengthen the political system and result in a comprehensive solution, and can be achieved by putting into place a long term strategy for Bahrain in order to overcome future problems.
With regards to human rights, Shafaei said that too much false and exaggerated information was published in the media. He also added that international human rights organizations are not intentionally targeting Bahrain and that not enough information was passed on to them so that they could correct their press releases and reports. He also stressed the importance of the role played by these organizations, adding that they should be dealt with in a positive manner as they wield significant influence in the international arena.
BHRM's statements with regards to the King's proposal for dialogue shows that you are optimistic about the future and that Bahrain's crisis will end in the foreseeable future. What makes you so optimistic?
We are optimistic because this kind of political crisis initially requires recognition that (a) a problem exists, (b) other parties in the political process can either complicate or help solve the problem, and (c) that dialogue is the only logical way out of the crisis. States cannot resolve their problems by resorting to brute force, but by taking into consideration the mutual interests of the parties concerned, and promoting a political partnership with opponents.
The King's determination with regards to dialogue is very important. We understand that there are pessimistic parties who will not accept the very principle of dialogue, but all parties must realise that political bickering cannot build a country, and that a stable political system is one that can overcome its problems with minimal losses. This can be achieved by adopting a policy of political inclusion, promoting shared interests and partnership in state-building.
This painful crisis was an opportunity for all parties to test the limits of their power, and to discover their weaknesses through the consequences of their actions. Our optimism with regards to dialogue is based on the lessons learnt from this bad experience and based on the King's determination. Many obstacles lie ahead, but dialogue is better than conflict.
The opposition has previously rejected the Crown Prince's dialogue initiative and set unreasonable preconditions. Everyone knows that this was a mistake. Will the opposition make the same mistake twice?
Most opposition parties announced that they are ready to engage in dialogue. However, Al-Wefaq's acceptance includes some pre-conditions, which reflect its concerns. But this can be overcome. The dialogue process will be difficult given the fact that the crisis is still ongoing and there is a feeling of distrust. Many questions will be raised in the upcoming weeks that need to be answered, particularly those relating to the framework, mechanisms and themes of dialogue as well as the nature of the participants.
Bahrainis are still feeling the repercussions of the crisis. The political rhetoric continues to provoke strong reactions, which make initiating dialogue difficult. Bahrainis need to be prepared for dialogue and put an end to this tension. We must not forget that this political crisis created a deep sectarian division inside the country, which is a cause for concern in the future. A suitable atmosphere needs to be created which would encourage participation in dialogue and give hope to all Bahrainis.
What do you mean by preparing the public for dialogue?
We hope that dialogue will lead to national reconciliation and partnership to develop Bahrain. We want to see a comprehensive solution, but some parties believe that any dialogue with the Government is useless. On the other hand, there are some who believe that dialogue with the Opposition will be ineffective. Distrust and the continuation of the political crisis will ultimately reflect negatively on Bahrain's reputation.
Bahrainis need to understand that dialogue will not compromise their rights and is in their best interest. Dialogue provides a means to share and discuss common concerns, solve problems and improve the standard of living of Bahrainis. Bahrainis are all equal and our main concern should be the problems facing our country.
With regards to preparing a suitable atmosphere, one could say that what took place in Bahrain in recent months has created new problems. Everyone complains and sees themselves as victims. There are some basic and critical issues that need to be addressed in preparing a suitable climate for dialogue, which include:
1. The launch of a national reconciliation project that provides for a royal pardon for most detainees. This amnesty will alleviate tensions and facilitate dialogue. Additionally, amnesty is very important at this time due to the nature and severity of the crisis that led to social and political division, and because of the impact of the crisis at the regional and international levels. However, some people oppose the idea of a royal pardon, especially for those who were involved in the killing of innocent civilians. It must be said that there are no winners in this crisis since all Bahrainis are loosers. Right now it is important to concentrate on the future instead of dwelling in the past. A new page should be opened concentrating on a comprehensive and permanent solution in order to avoid repeating the same mistakes again.
2. The need to guide the media in order to put an end to sectarian rhetoric as it complicates matters and increases tensions.
3. The appropriate preparations for dialogue by identifying the participants, subject matter and the implementation mechanisms.
4. The review of some inappropriate measures which had a deep impact on society, including the sacking of employees, stripping scholarships from students, destroying places of worship and deaths in detention. Reviewing these measures will build trust and show that the Government is serious and it will also change the behaviour of the public.
It is worth noting that the Government has taken steps to improve the situation on all fronts, especially with regards to the establishment of a complaints committee to review redundancy cases. Also, the Ministry of Education has restored some scholarships and more importantly, the Minister of Interior has referred some security personnel to the Military Court for causing the deaths of detainees. This is what human rights organizations have demanded from the Government. Such a measure will show that the State is both confident and courageous, and will strengthen public trust in the complaints mechanism.
Based on what you are saying, there are many challenges facing dialogue, which many oppose.
The challenges are real but it is very important that a comprehensive solution to the crisis is reached to prevent its recurrerence in the future. Strategic issues need to be taken into consideration and we need a system that can withstand any regional tensions.
There are many challenges that can only be overcome through a collective effort. Had there not been a big problem at the start of the crisis, there would not have been a need for such a comprehensive dialogue. One of the main challenges lies in the fact that there are two political parties which represent the Shia, namely; Al-Wefaq Society and the societies that reject political participation and call for the removal of the regime. The participation of both groups in dialogue is essential, especially the latter, as the political system should have the ability to accommodate all parties. One of the main strengths of any political system is its ability to include new emerging political forces.
We call upon the Government to engage in a separate dialogue with the hardliners, in order to come to an understanding. If these parties refuse to participate we should try again and again, and if the Government fails in its attempts to accommodate them, then a national consensus will arise, which will sideline these groups.
Calls for dialogue have also been made by countries, which have undergone similar political and social crisis. The political system in Bahrain permits dialogue to take place with the hard line parties, which refuse to participate in the political process. His Majesty the King understands that the strength of any regime lies in its ability to politically accommodate all parties, which is why he met some of their leaders. A strong political system does not fear dialogue but views it as one of the most important tools in achieving reform.
You concentrate on dialogue with the Shia, what about the other parties?
Who are the participants in the national dialogue? The political parties? Social forces? Dialogue should primarily be between those who negotiate the agreement and sign it. They should have a strong public base and representation so that they can enforce any agreement. The sectarian division in the country means that a representative of both sects, Shia and Sunni, should be present during dialogue, as well as the Royal Family. The Royal Family should be the guarantor of any agreement to ensure that the country is politically balanced. The cooperation of these three groups make dialogue a success and will build the future of the country.
National dialogue should try to include those who oppose it so that the public becomes unified. Whoever participates in dialogue should accept the fundamental principles of the political game. It is not in the interest of the regime, opposition or the public to delay dialogue. It is important that dialogue results in a comprehensive solution, which can restore Bahrain's image. It is important that Bahrain becomes a model in the Gulf region through its political diversity, religious tolerance and its wide margin of freedom of expression.
Let us move to human rights. Why do international human rights organizations continue to show animosity towards Bahrain, despite the fact that a lot of inaccurate and exaggerated information was uncovered?
Inaccurate information was circulated by the media with regards to the role of foreign workers in confronting the protestors, which the Indian embassy had denied. There were allegations that some deaths were caused by tear gas, which were later found to be untrue. There were some allegations that people had died under torture (e.g. Miyad Abdullah Mohammad) who was later found to be alive and well. Some information regarding torture was also fabricated as well as the number of deaths, detentions and sackings, which was exaggerated.
International organizations do not intentionally publish inaccurate news and have no personal grudge against Bahrain and its regime. They try hard to have a clear picture on the political situation and the events taking place in the country. They do their best to obtain information but complain that Bahraini officials refuse to cooperate or provide them with the necessary information.
There is a general feeling that international organizations have a political agenda. They fail to document the breaches of the opposition and are accused of fuelling sectarianism. Perhaps this is the reason why some ignore their reports and refuse to cooperate with them.
International human rights organizations are not concerned with local politics and do not adopt the demands of the opposition. They do not comment on the political disagreements and their primary concern is that human rights are respected by both the Government and opposition, but they are primarily concerned with the government's human rights violations, since it bears responsibility for its people. Governments are also responsible for implementing the law and respecting their citizens' rights, hence their behaviour is continually scrutinized. The opposition's violations should be addressed within the legal framework of the state and in accordance with international human rights conventions, as they are unacceptable and condemned by international human rights organizations. For example, in Amnesty International's report, which was issued on 21 April 2010, the opposition's violations were documented, even though some believe that the report did not go far enough. Perhaps this was due to the fact that not enough information was available to the Organization.
With regards to the reasons behind the use of sectarian language by international human rights originations, the BHRM previously discussed this problem and made clear that the use of constant sectarian references is harmful. We have also informed the organizations concerned that use of sectarian terms, without any justification is unacceptable. The BHRM also understands that the use of sectarian language is due to the western mindset of these organisations.
These issues do not usually prevent states from cooperating with international human rights organizations, as these organizations have a large influence on political positions, laws, parliaments, media and global public opinion. They are a force to be reckoned with on the international political arena and hence confronting them or refusing to cooperate with them is unwise. The end result will not favour the state involved, even if that state was the United States of America itself!
How do you see the future of human rights in Bahrain?
One of the main objectives of the reform project by His Majesty the King was to develop human rights and to move Bahrain to an advanced level in comparison with neighbouring countries. However, recent events have negatively affected human rights and we hope that the national dialogue will lead to an improvement. We also hope that the crisis will end and that human rights societies, including the National Institution of Human Rights (NIHR) will become active again. It is important that state institutions become more concerned with human rights. We hope that the national dialogue will add new momentum to human rights activities, programs and workshops, so that they again become a focal point for international human rights organizations. This will ultimately be in the interest of human rights in Bahrain.