The Relationship with the Interior Ministry is Fluctuating
The relationship between Bahrain's Interior Ministry and human rights organizations is fluctuating despite previous attempts to bridge the gap between the two parties. The Interior Ministry believes that these human rights organizations do not adequately appreciate the positive steps it has taken, and on the other hand, the organizations themselves believe that the Ministry has not taken the initiative to establish strong cooperation with them in order to benefit human rights in Bahrain.
In this context, Mr Abdulah Al Drazi, Secretary General of the Bahrain Human Rights Society, expressed the Society's full willingness to cooperate with the Interior Ministry in order to improve the human rights situation in Bahrain. In an interview with Al Waqt newspaper on 21/2/2009 Drazi described the Ministry's establishment of a committee for citizens' complaints as a positive step and hoped that his Society will have the chance to participate in this committee and to follow up peoples' complaints. He also hoped to meet with the Interior Minister to discuss the scope of this cooperation.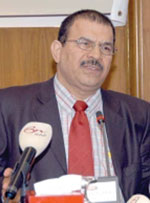 Mr Abdulah Al Drazi
Drazi also added that the previous committee set up by the Ministry was useful and with the Society's cooperation, the two were able to solve many issues such as renaturalization, the reemployment of some ex-employees imprisoned during the nineties, and several other issues. Drazi observed that the Ministry had granted the Society permission to visit Jow prison twice in 2005 and that the ensuing report issued by the Society sparked the beginning of the unstable relationship between the two.
The Interior Ministry had asked to view and respond to the report before its publication but the Society had refused to comply. This was consequently seen by the Ministry as an attempt to defame the government rather than cooperation between two parties seeking to develop human rights in the country.
Moreover, Drazi said that the Bahrain Human Rights Society opposes the use of violence and added: the Society's position on this matter is clear; it refuses the use of violence in all its forms. We are against the burning of tires and the vandalism of public properties and we stress that the struggle to promote human rights is first and foremost a peaceful one'.
However, he added that the Society is also against the excessive use of violence against protestors and mentioned receiving news of some detainees who have been subjected to torture, adding: ' it is important for us that a positive view on the human rights situation in Bahrain is disseminated, and, therefore, must put an end to these abuses by allowing neutral parties to verify these reports'.
Finally, Drazi stressed that 'the Bahrain Human Rights Society deals with all issues from a human rights perspective and, therefore, the Interior Ministry should not see it as an opposition or politicized party'.