Condemnations of Violence against Asians and the Police
The Bahrain Human Rights Monitor has issued a statement strongly condemning the recent acts of violence against a number of Asian workers, as well as the unjustifiable vandalism of police cars and the burning of public properties.
The statement warned against this unjustifiable escalation of violence that has until now affected the lives of many innocent civilians, and described this kind of behaviour as having no connection to political action or freedom of expression whatsoever. It also affirmed that noble political goals and legitimate demands cannot be achieved by throwing bombs or targeting civilians and the police. The statement also condemned the use of provocative language of incitement to violence and to encourage hatred that drive youths to rebel against the law and to adopt violence as a means of achieving political goals, far from the natural and legitimate channels of change.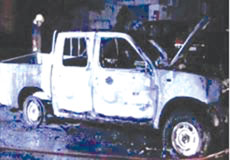 Many violent incidents have recently occurred in the country. For example, last February six unknown assailants attacked a group of Asian workers- most in their early thirties- in the area of Bani Jamra, where they lived.. The assault resulted in two workers permanently losing their eyesight and a third losing one eye and sustaining 50% damage to his other. The other workers sustained injuries such as bruises and broken arms.
Before this incident, unknown assailants had hurled a Molotov cocktail at a police vehicle and torched it at the entrance of Duraz village which resulted in the complete destruction of the car. The police patrol car was surprised when 40 masked individuals attacked them with stones and Molotov cocktails, but were able to escape the vehicle before they were hurt. In the most recent violence, on 8 March 2009, an Asian worker was attacked while in his car in Shaikh Jabir street in the village of Al Ma'amir, sustained serious burns to his face, chest and back and his car was completely burned after Molotov cocktail was thrown at it. It is worth noting that all these violent attacks take place regularly and systematically during the night.