Strikes, Clashes and Investigations inside Jaw Prison
On 25 July 2010, 300 prisoners organized a general strike inside Jaw Central Prison demanding that the Government improve their conditions. According to the prisoners, food is prevented from getting in from outside and sports have been prohibited. They demanded that an impartial committee be established in order to investigate these allegations. On the other hand, the authorities say that a group of prisoners refused to eat, and obey orders. They also stated that some demanded that the doors of the cells be kept open, the time allocated for exercises be extended to midnight and to be allowed to possess dangerous tools such as razors. The strike led to clashes and resulted in one injury and, according to the Bahrain Human Rights Society, ended with 150 inmates being punished by preventing them from receiving visits twice consecutively.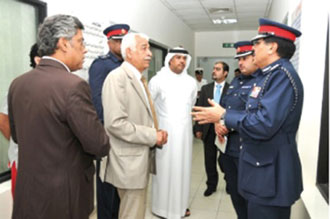 The National Institution for Human Rights presented an urgent request to the Ministry of Interior to visit the prison. The Bahrain Human Rights Society also presented a similar request and said that it received tens of complaints from prisoners and their families regarding their conditions. On 5 August 2010, the Secretary General of the Bahrain human Rights Society (BHRS), Abdualla Drazi, and some of the families of the inmates met the Inspector General of the Ministry of Interior Brigadier, Ibrahim Habib Ghaith, to discuss the latest developments in the prison.
On 10 August 2010, a delegation from the National Institution of Human Rights (NIHR) including its President, Salman Kamal Aldeen, visited Joe Prison and met several inmates. The delegation discussed the circumstances of the strike, the clashes that took place and the measures that were taken. The delegation expressed its satisfaction with the level of services and transparency among prison officials. According to Al Wasat newspaper in an interview with Kamal Aldeen on 12 August 2010, the NIHR will issue its own report regarding the outcome of the visit and its recommendations.