Combating Human Trafficking in Bahrain
The US Department of State has recently issued a report on trafficking in persons, which covered countries all over the world. Bahrain and some other Gulf states received considerable attention because they host large numbers of foreign workers, a fact that makes the issue of human trafficking rather blurry and hard to pin point correctly and therefore raises the possibility of countries receiving an unfair negative categorisation.
Sources of concern
According to the report the Government of Bahrain does not fully comply with the minimum standards for the elimination of trafficking; however, it is making significant efforts to do so. It also added that the Government did not show evidence of its overall increasing efforts to address human trafficking over the previous reporting period; therefore, Bahrain is placed on the Tier 2 Watch List for the second consecutive year.
The report also stated that the Government made limited efforts to prosecute and punish the perpetrators of forced labour and sex trafficking during the reporting period, and that there was no indication that the Government took steps to institute a formal identification procedure for trafficking victims. In addition to the absence of referral mechanisms which provide foreign victims with legal alternatives to their deportation to countries where they faced hardship or retribution.
The report also stated that even though the Government's funded shelters began accepting female trafficking victims in 2012, trafficking victims continue to be susceptible to arrest, detention, and deportation for offenses directly related to being trafficked. Despite past commitments, the Government's migrant worker sponsorship—or "kafala"—system was not abolished and continues to give employers inordinate power over foreign workers and contributed to forced labour and debt bondage.
Recommendations for Bahrain
The report recommends that Bahrain enforce the 2008 anti-trafficking law, and significantly increase the investigation and prosecution of trafficking offenses—particularly those involving forced labour—including convictions and punishment of offenders. It also recommends that the Government actively enforce labour law protections for domestic workers and to reform the sponsorship system in order to eliminate obstacles to migrant workers' access to legal recourse for complaints of forced labour. The report also stated that Bahrain should institute and apply formal procedures to identify victims of trafficking among vulnerable groups, such as domestic workers who have fled from abusive employers and women in prostitution.
It also recommends that the Government institutes a formal victim referral mechanism for law enforcement and that Government officials refer identified victims to protection services. Also, to ensure that identified victims of trafficking are not punished for unlawful acts committed as a direct result of being trafficked, such as illegal migration or prostitution. The report also recommends that the Government expands its shelters to protect all victims of trafficking, including victims of forced labour and male victims of trafficking. Finally, it recommends that the Government ensures that the shelter staffs receive anti-trafficking training and speak the languages of the expatriate workers. As well as to continue to publicly raise awareness of trafficking issues in the media and other outlets for foreign migrants, specifically domestic workers, in their native languages.
Government efforts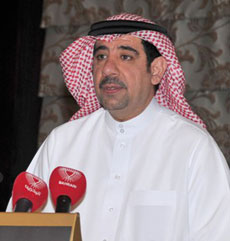 The Undersecretary of the Ministry of Foreign Affairs, Ambassador Abdulla Abdullatif Abdulla
The Bahraini Government seems to be duly concerned by human trafficking and has established a national committee in order to address this problem. This Committee includes Government officials and non- Governmental bodies, and is chaired by Ambassador Abdulla Abdullatif Abdulla. The American report concluded that the low number of cases that were referred to courts and tried indicates the Government's failure to comply with the minimum standards for the elimination of trafficking. But according to the Government officials, many cases were recorded but not followed up because the victims tend to change their testimonies in court for fear of losing their jobs or deportation.
With regards to the number of cases which were referred to courts, Bahraini authorities have recorded four cases in 2012 and two cases in 2013. In March 2013, four offenders, one of whom was a policeman were prosecuted for the trafficking of two female dancers and were sentenced to three to five years in prison. The policeman was sentenced to five years imprisonment and fined five thousand Dinars and the dancers were returned to their countries. In another case, two foreigners were found guilty of human trafficking, sent to jail and then deported after completing their sentences.
In June 2013, an Asian woman was also sentenced to ten years in prison, fined five thousand Dinars and then deported for forcing a woman into prostitution.
The Public Prosecutor Wael Bu A'alay said that human trafficking cases in Bahrain does not constitute a phenomena and stressed the need for a law that regulates demotic workers. The Ministry of Foreign Affairs (MOFA) and the International Organisation for Migration organised a workshop on 'National Capacities Building and increasing awareness on Combating Trafficking in Persons'. During this workshop the Undersecretary of the Ministry of Foreign Affairs and The Chairman of the National Committee for Combating Human Trafficking, Ambassador Abdulla Abdullatif Abdulla , highlighted Bahrain's achievements in the field of combating Trafficking in Persons. He stated that Bahrain is keen on adhering to its national and international obligations towards combating human trafficking through building of national capacities, spreading awareness and allowing workers to move without the consent of their employers. He also added that the National Committee has set up many programmes to improve its performance, including: launching a hot line, providing psychological support and providing shelter centres for victims. Also, the Labour Market Regulatory Authority's organised an online awareness campaign, which explains the rights of the workers in different languages. The Government also broadcasts news and programmes on the issue in the state media in different languages and has increased the number of inspectors.
The UN representative of the International Organization for Migration, Sara Craggs said that the workshop was a testament to the commitment of the Kingdom of Bahrain to combating human trafficking, adding that the country has made positive steps in this regard. The UN expert Professor Mohammed Mattar said that the workshop discussed putting into place a national plan to combat trafficking based on legal pursue, protecting victims, precautions procedures, social participation and outlining clear roles for civil society.