The King Determines Bahrain's
Future after Bassiouni's Report
Many questions were raised by politicians and the human rights community before the BICI report was released. Some of those revolved around the report itself and the work of the BICI, such as the extent of its impartiality and how its recommendations will be implemented. Others questioned the seriousness of the Executive Authority in responding to the needs of the current phase. The BICI report provided answers to many of these questions, and proved its impartiality, integrity, courage and concern for Bahr?in. However, other questions regarding how the Government will deal with the report remained unanswered. In his first public reaction to the findings of Bassiouni's report, the King responded to some of these questions dispelling unequivocally many fears.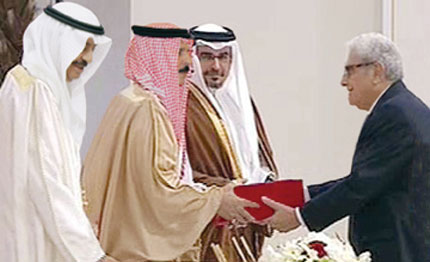 Receives BICI's Report
On 23 November 2011, (the same day the report was released) the King delivered a speech in the presence of the members of the BICI, a group of local and international human rights activists, representatives of local civil society organizations, local and international journalists, Government ministers, the Prime Minister, the Crown Prince, MPs, members from Shura Council and representatives of the United Nations. The King discussed several sensitive issues, saying that the report deals with controversial?matters and that 'by accepting the findings and recommendations of the report, the people of Bahrain can make this day one that will be remembered in the history of this nation'. He also added that 'a new page has been turned in our history', which implies that making real changes based on the recommendations of the report can represent a historical gap between two eras.
How will the Bahraini Government deal with the report?
The King answered this crucial question by stressing that 'any Government which has a sincere desire for reform and progress understands the benefit of objective and constructive criticism'; and this is the reason behind the establishment of a commission of foreign experts to assess the events of the past year and their subsequent ramifications. Our aim is to correct mistakes even if this means bearing most of the responsibility, and we should therefore accept the results of the investigation. The King explained that 'there are many examples of this around the world, for example in Europe, we see that leading national governments are routinely criticis?d by external institutions, which they themselves have created. The European Court of Human Rights frequently sanctions European states for human rights violations,, and despite their long democratic traditions, leading European powers have been condemned in literally hundreds of cases for denial of justice and for the torture and ill-treatment of detainees. Yet these governments do not denounce the European Court, nor do they protest or boycott the judges who have criticised them. On the contrary, they ar? grateful to the Court for having identified the ways in which they must improve if they are to be in full concordance with international law and morality. Nor does the international community conclude that these are oppressive governments, in fact they are seen to be following a path of wisdom, acknowledging that they benefit from neutral investigations'.
In sum, the Government of Bahrain has accepted the findings and the recommendations of the report and will work towards their implementation. The King spoke directly to the BICI members and asked them 'what can we do with your report, in order to derive the maximum benefit from it?'
Following are excerpts from the King's address:-
1/ Turn a new page and move beyond violations:
'We are determined, God willing, to ensure that the painful events our beloved nation has just experienced are never repeated, and that we learn from them and use our new insights as a catalyst for positive change'.
2/ Put forward laws and new legislations and reform existing ones:
'We must reform our laws so that they are consistent with international standards to which Bahrain is committed by treaties. Even before receiving your report, we had already introduced proposals to amend our laws to give greater protection to the valuable right of free speech, and to expand the definition of "torture" to ensure that all forms of ill-treatment are sanctioned by our criminal laws. Both of those proposals would place our laws in full conformity with international human rights standards. We h?ve addressed issues of due process in criminal trials, in particular for the medical professionals who are now being re-tried in ordinary courts. We have reviewed, and are continuing to review, the circumstances of job dismissals and expulsions from educational institutions. In addition to retrials and reinstatement, affected persons have access to a range of remedies, including the newly established Victims Compensation Fund'.
3/ Hold those responsible of violations accountable:
'We do not tolerate the mistreatment of detainees and prisoners. We are dismayed to find that it has occurred, as your report has found, and we will not accept any justification based on national characteristics that exclude us from others. We intend to waste no time in benefiting from your work. Your report provides an historic opportunity for Bahrain to deal with matters that are both serious and urgent. Officials who have not been up to their task must be held accountable. Surely, we as a nation that r?spects the principles of Human Rights, need to show that our officials are accountable before a supreme Law and a higher Court.
4/ Cooperate with international human rights organizations and benefit from their expertise in the implementation of recommendations:
'In order to ensure that there is no return to unacceptable practices once the Commission has left Bahrain, we have decided to engage international organizations and eminent individuals to assist and advise our law enforcement agencies, and to improve their procedures. The Kingdom of Bahrain assumes its international responsibilities seriously. Indeed, it has taken the initiative to contribute to collective international action by providing facilities for multilateral organisations. Such international coop?ration will of course not replace national initiatives. Just the day before yesterday, we announced that the National Institution for Human Rights is henceforth established as an independent body possessing its own organic law to operate in accordance with the Paris Principles, which embody international human rights standards relevant to the functioning of national institutions'.
5/ Continue political reforms to achieve national reconciliation:
'Above all, we must conceive and implement reforms that satisfy all segments of our population. That is the only way to achieve reconciliation, to heal the fractures in our society'. We affirm our commitment to ensuring the safety and security of our nation and its people, and our commitment to reform, and to the rectification of errors in all transparency. We urge all our people to reflect upon their own attitude and intentions, to address their mistakes, and to do their civic duty to contribute to nation?l unity within a community characterised by tolerance. We have every sympathy for those who sincerely and peacefully seek reforms within a pluralistic society where the rights of all are respected, but not for those who seek to impose totalitarian rule'.
6/ Study the report and hasten to form commissions for implementing its recommendations:
'Your report is lengthy and detailed. We must study it with the care it deserves. As a first step, a working group of members of the Government will immediately be asked to conduct an in-depth reflection on your findings and recommendations. This working group will then urgently propose concrete responses to your recommendations. As for the Government›s responses to the findings and recommendations of your Report, I say again that they involve fundamental issues, and must be dealt with urgently'.
Conclusions:
There is a clear official commitment, and from the highest authority in the country, to implement the BICI recommendations as soon as possible.
The report from official point of view represents a turning point in human rights and politics in Bahrain.
Implementing the recommendations requires a strong political will which continues to exert pressure in order to overcome all obstacles.
In order for the implementation to succeed, Bahrain needs every possible help from all social and political parties, the OHCHR and international human rights organizations.